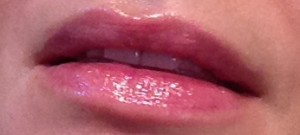 This is a wonderful preparation for getting ready for a date with your lover. Take a moment to exfoliate and saturate your lips with lip balm. Then, set your timer for 3 minutes and do this mini meditation: 
-Make a few subtle humming sounds into the tissue of your lips so that you awaken them with sensation.
-Then, feel the tingling after-effect. Imagine that you can feel the cells coming alive with life, hydrating and rejuvenating. Feel your lips swelling with sensation, and allow your lips to swell as much as they can.
-Now become aware of the lip balm on your lips and the wet, sensual feeling on your lips.  Feel your lips opening to divine nectar, as if it is dripping down from the heavens, or that you are catching onto your lips the wet nectar dripping down from a flower.
-Now, take a minute to associate this erotic sensation of wetness on your lips with the wetness in your yoni (vagina).  Encourage the pleasurable sensation of swelling and wetness to to grow in both places.
-Continue to keep your lips moisturized and tune into the sensuality you feel in your lips and yoni throughout the day.